2022 List of Best Window Type Air Conditioners in UAE
UAE's List of Best Window AC of 2022
Here is a look at the best window AC's to buy in the UAE. Explore information and comparisons between many popular brands.
We may not have central air in every room, but that doesn't mean the seasonal heat can't find us wherever we go. The summers are getting hotter, and the air conditioning market is anticipating an upswing in demand as UAE residents struggle to find relief.
Which air conditioning category is growing the fastest? Window units.
A more efficient and less space-consuming option than portable A/Cs, window units are a perfect solution for cooling a room that doesn't have a central air supply. We'll explore the best Window ACs available so you can start supplying cooling comfort where you need it.
What are the Best Window Air Conditioners in UAE?
Popular Window Air Conditioning Brands in UAE
Window ACs are available in different sizes and come in 1.0 ton, 1.5 ton, 2.0 ton, 2.5 ton capacities, The best-selling window air conditioning brands in UAE are:
Gree
Midea
Westpoint
The Best Window ACs
If you have a spare room that doesn't have central air, or if you want to save energy by not running the central air, a window AC is an ideal fit. We ranked the best window AC brands in the UAE for 2021 based on product catalog, energy efficiency, and overall quality. For convenience, we limited the list to lines that are compatible with 230V outlets.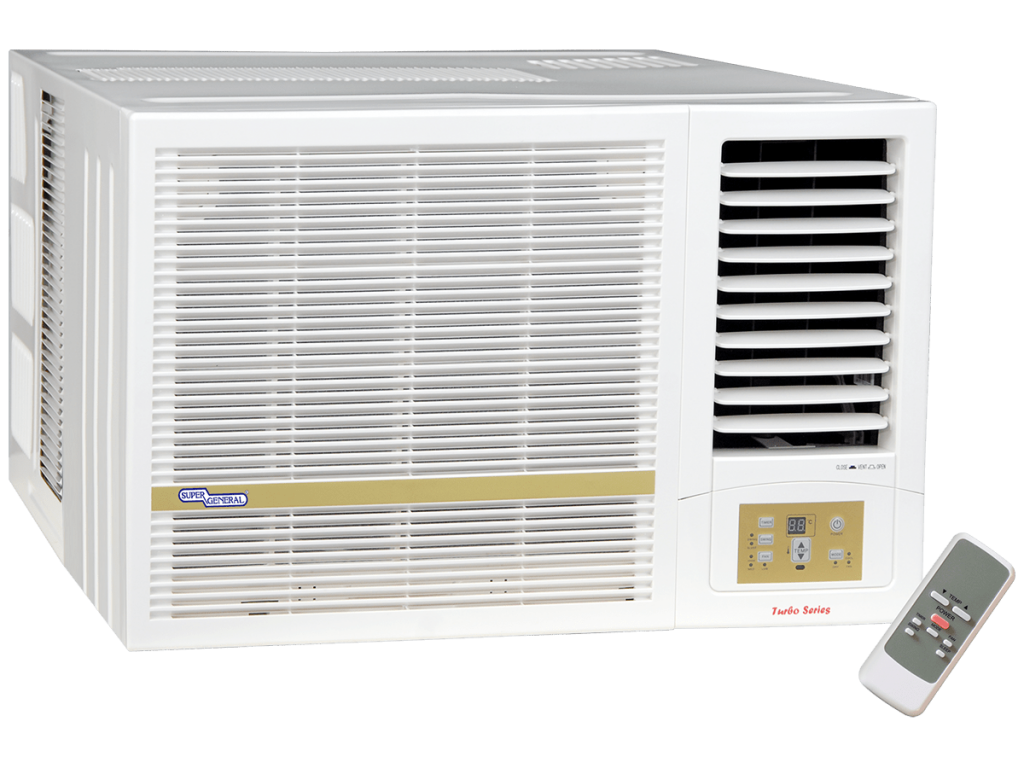 Super General
Super General has been around for over 30 years, but it didn't take them long to cement their status as one of the UAE's leading air conditioner brands. With the combination of quality construction and value pricing, it's easy to see why.
The window AC options range from 9,000-28,000 BTU models, covering rooms as small as 37 square meters to rooms as big as 176 square meters. Units are moderately quiet, with the 18,000BTU models operating at 55dB.
The Super General models are an exceptional value but relatively simple in functionality. Still, there are a couple of nice features that can help you get convenient performance out of their line.
To start, most models come with an auto-restart feature that makes the unit turn back on in its prior setting in case there's a power outage. It provides uninterrupted cooling, so you don't have to worry about resetting your unit when the power dies. Power loss is not a large concern in the UAE, so even though it's a nice feature, you may not find yourself needing it all that often.
What we really like about the Super General line is the self-evaporative feature they put on every unit. These models do a superior job at keeping water from building up, using excess moisture to cool the coils and give you more efficiency.
No matter the room size, if you want an affordable model that delivers reliable cooling and high-quality construction, Super General should be one of your top choices.
Pros
Available in 9,000-28,000BTU models
Cooling and fan options
Self-evaporative system
Auto-restart
Auto-swing
Easy to clean fiberglass filters
Excellent value
Cons
Westpoint
Want another inexpensive but high-quality window AC option? Westpoint window ACs are similar to Super General in price and operation, offering yet another chance to keep cool on a budget this year.
Westpoint ACs are, without a doubt, the most basic cooling options on this list. The size range is limited, so unless your room size is between 92-148 square feet, you'll want to look elsewhere.
Despite the limited size options and mediocre evaporative functionality, Westpoint window ACs deliver many of the same benefits as Super General models.
Westpoint is comfortably quiet at 55db in the 18,000BTU unit, and they supply much of the same efficiency as Super General with similar rotary compressor and auto-swing features. And to make sure they beat their competition in at least one category, Westpoint models have three fan speeds as opposed to only two on comparable Super General models.
Pros
Cooling and fan options
Auto-swing
HEPA filter
Excellent value
Cons
Minimal moisture management
Midea
If you want a deep bag of options and top-tier technology, Midea offers some of the best window ACs available.
If you want a basic model to compete with Westpoint and Super General, Midea has options to explore. They've got auto-restart, auto-swing, and self-evaporative functions to give you easy maintenance and efficient cooling.
They're great models that give value brands a run for their money. They even give you a better warranty, with five years of full coverage instead of the standard one-year period. Yet, the truly exciting aspects of the brand come to light when you look at their upgraded models.
Need something extra quiet? For a little extra money, you can get super quiet models that get as soft as 42dB (18,000BTU).
Pros
Low noise
Cooling and fan options
Auto-restart
Auto-swing
Self-evaporative system
5-year warranty
Cons
Limited size range (12,000-24,000BTU)
Gree
The Gree line of window units is a bit of a design departure from many of the other brands on this list, with unique advantages and disadvantages to its build.
Let's start with the good. One nice feature we haven't explored to this point is self-diagnosis, which Gree includes as an essential benefit to keep your unit operational at all times. If anything happens, it will quickly identify and communicate the issue, saving you from costly repairs and long stretches without air conditioning.
Gree adds even more longevity with the gold fin coil coating. The weather-resistant shield extends the life and maximizes the performance of the coils by preventing corrosion. As an added benefit, it also keeps microorganisms like bacteria and viruses from thriving in the unit and being expelled into the air.
The specs are comparable to other similar-sized units in terms of noise output, but it lacks some of the features of even the basic Super General and Westpoint models.
In one way, this speaks to a thoughtful design element. The 360-degree airflow from the Gree models eliminates the need for an auto-swing feature because it naturally provides even cooling to the room.
One significant design difference with the Gree is the piston compressor. The best window AC brands offer rotary compressors because of their cost-effectiveness and energy efficiency. You sacrifice those benefits when you opt for a Gree AC.
Pros
Self-diagnosis
Gold fin coil coating
360-degree airflow
Uses newer, eco-friendly R32 refrigerant
Cons
Higher price point
Piston compressor
Limited size range (18,000-24,000BTU)
Limited functionality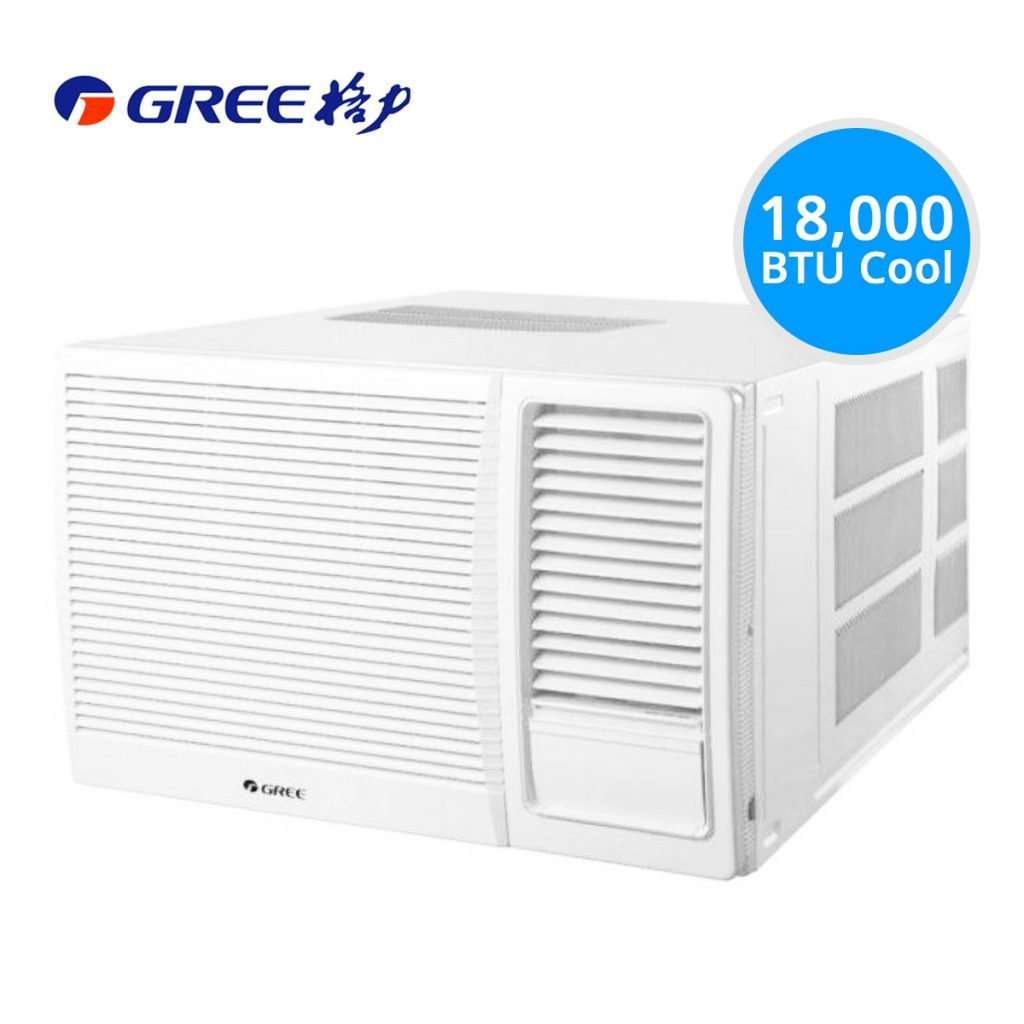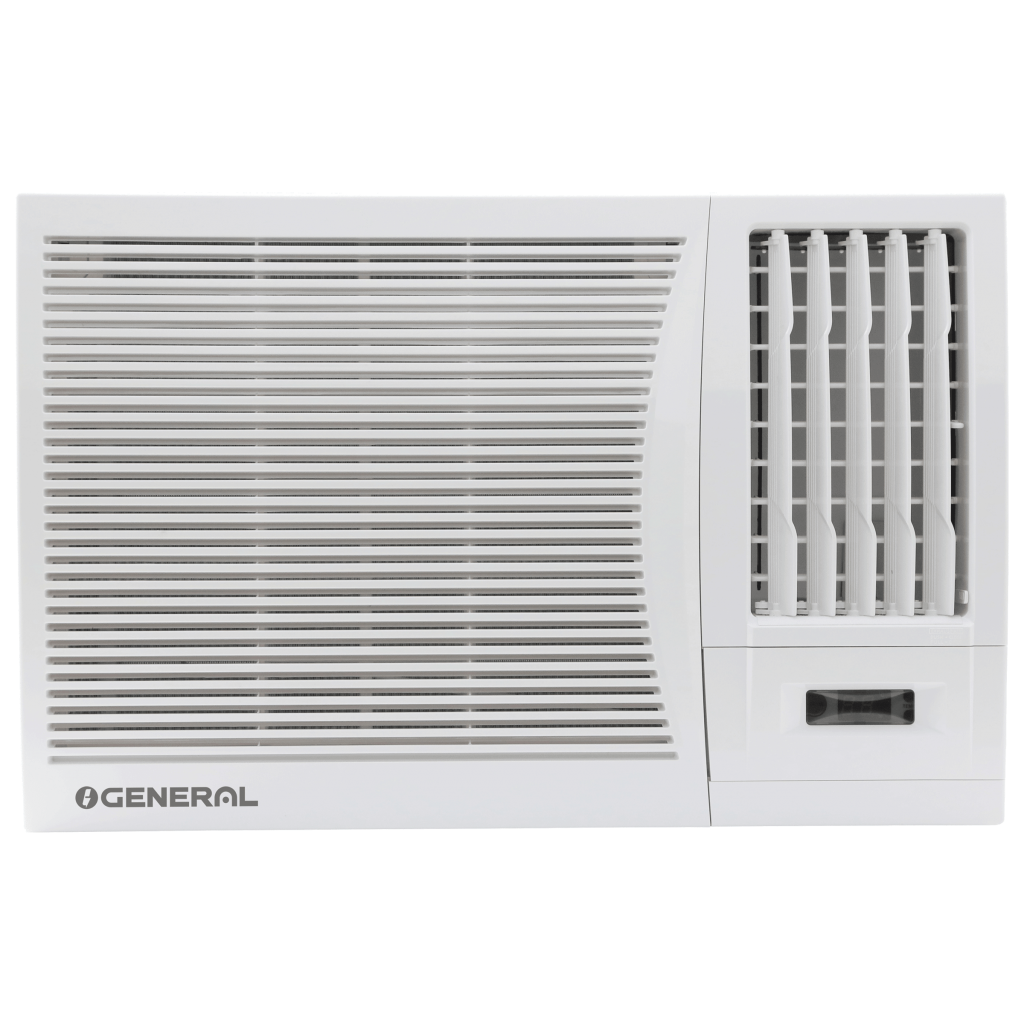 O General
If you've followed us for a while, you know that we hold O General air conditioners in high regard. The commitment to quality, superior airflow, and energy efficiency that we love in their split models extends to their window AC offerings.
The controls on the O General line are familiar, as their units sport variable thermostats, multiple fan/cooling speeds, and auto-swing. But you'll see nice upgrades in some key areas.
O General designed their models to tackle the intense UAE heat, and they're not shy about promoting their "tropically specified" compressors and components. And for individuals needing a quieter cooling experience, the O General 18,000BTU model offers a modest 42dB noise level, a clear advantage over comparable units.
Pros
Low noise
High-performance cooling and durability
Cooling and fan options
Auto-swing
5-year warranty
Cons
Limited size range (18,000-24,000BTU)
Finding the Perfect Window AC in the UAE
When researching AC models, it's critical to measure the size of your room to find the appropriate power. Because we experience hot summers in the UAE, it can be safe to jump up in size to account for the extra heat. For example, if you have a 9m x 10m room, you may want to spring for a 22,000BTU instead of an 18,000BTU model.
When you know the size, it's time to compare prices in that range, which can tip you off to some significant design differences. One large difference that can contribute to a higher price is the style of the compressor.
Rotary compressors are ideal in a residential window AC. Portable ACs are using these more often due to their superior energy efficiency over reciprocating, or piston, compressors.
Unless you need extremely high power, a rotary style will be more energy-efficient and create less heat during operation. Be sure to compare energy ratings from the manufacturer and between sizes to make sure you buy the most practical model for your room.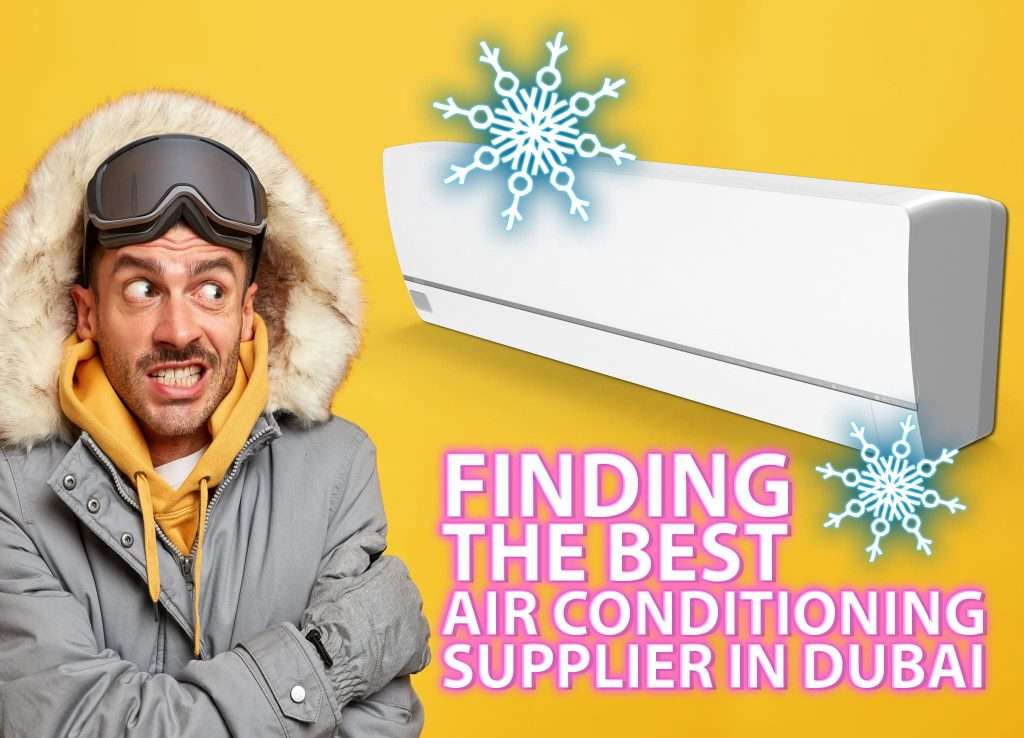 The Importance of Refrigerant in Window ACs
It gets overlooked when comparing brands, but the refrigerant type is an important consideration from a health and environmental standpoint. The current standard is R410A, which replaced the ozone-depleting R22 refrigerant several years ago. R410A is free of chlorine and bromine, making it safe for the ozone layer.
R410A is perfectly suitable and widely available, but it's being replaced by an even newer refrigerant, R32. If you can get R32 refrigerant, your system will be more efficient, easier to maintain, and better for the environment.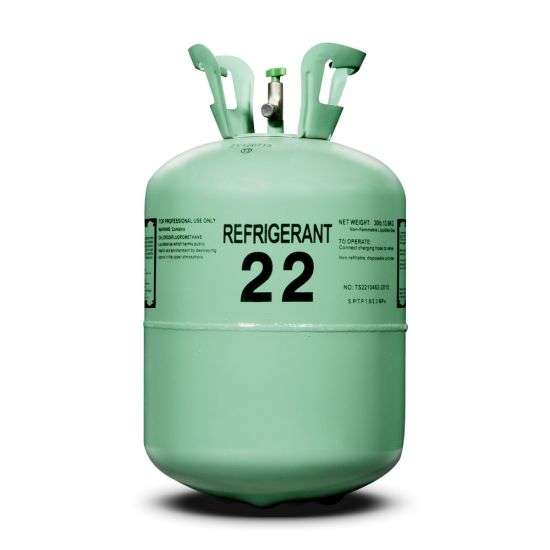 Shop the Best Window ACs Today
There's never a bad time to start perfecting the climate in your home. Start getting the comfort you deserve by researching the best window ACs on the market.
Finding the best window unit is essential, but there's more to owning an AC than simply buying one. For great tips on maintaining your AC and getting the most satisfaction from it day in and day out, follow our blog.