The 8.4 million expatriates or migrants in the UAE make up over 88% of the population. And a lot of them come to Dubai, one of the emirates in the United Arab Emirates.
Expatriates relocate here on contracts lasting several years, thanks to a thriving economy and great job offers. Dubai's lively foreign investment profile because of its strategically located industrial "free zones."
Some new arrivals get removal services to bring all their household belongings with them. Others go on a new furniture shopping spree once they arrive. And they are delighted to discover a furniture assembly service right on their doorstep.
Do you furniture assembly services in Dubai? Let's tell you all about it, how it works, and how to get started, so you can get comfortable in your new home.
Finding Help in Your New Country
We understand that landing in a new country can be disorientating. Once you've figured out the best places to shop for furniture and household goods, you haven't a clue about how or where to find reliable handymen to help you settle in.
Your first problem is likely to be installing your furniture in your new home. Look no further, since Handymen Dubai provides all the usual handyman hire services, and also provides one very special service: "Furniture Assembly and Installation Service".
What Is Included in the Furniture Assembly Service?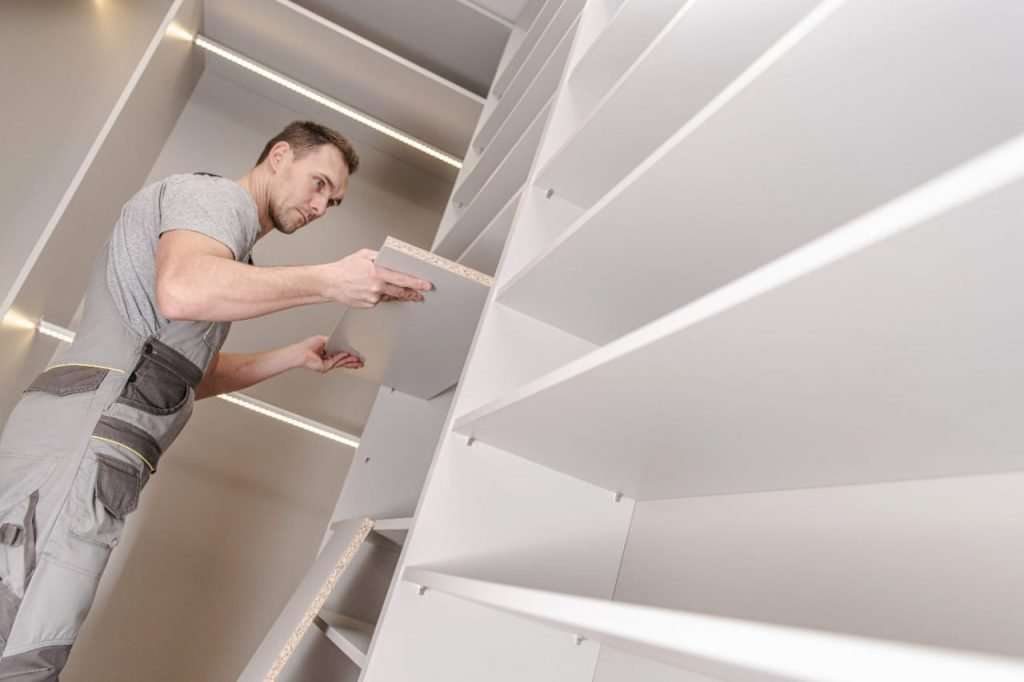 Our experts will do the jobs you dislike the most. We will assemble your furniture for you. Many people freight their household belongings over to Dubai. They save costs by disassembling their furniture so that their belongings take up as little space as possible in shipping containers.
Items that are disassembled before shipment include beds, sofas, bookstands and bookshelves, desks, and display cabinets. And, of course, they need to be assembled upon arrival in your new apartment or villa in Dubai.
Our highly skilled and well-equipped handymen can be relied upon to restore order to your furniture correctly. Your items will be assembled securely and be ready for use in no time!
Our carpenters also have their eye out for small repairs that might need attending to while they are assembling your furniture, and will include these as part of the assembly job after consulting with you.
We also assemble flat-pack furniture, such as the type of furniture purchased from places like Ikea. Our experienced workers know exactly what they are doing, and won't spend hours poring over diagrams like people who only rarely have to put a new piece of furniture together.
What Else Is Included in the Furniture Assembly Service?
Handymen Dubai also does a whole lot of other tasks that most people regard as chores. Aside from the obvious, we will hang pictures, fix mirrors to the wall, and repair door locks and cabinet hinges, if necessary, in your new apartment.
We also hang curtains and blinds and will do the necessary work to install the type of curtain rails, rods, and tracks you need.
Reliable, Honest, and Careful
Many newcomers are nervous because they have heard stories about local tradespeople who take far too long to do the job, or whose workmanship is of poor quality. You might even have had the misfortune of being overcharged by providers who do not have the required license or insurance. 
Furniture assembly in Dubai and furniture installation in Dubai are tricky terrains to navigate.
These are all very good reasons why you should hire Handymen Dubai. We are a professional service. We pride ourselves on our punctuality and our ability to get the job done in time. Our company has a team of expert professionals available no matter what the task is.
Because we also provide electrical, plumbing, planting, carpentry, and air conditioning repair and maintenance services, we know we have the ability to install and repair whatever household problem you have. In Dubai's climate, an installation service that gets your HVAC unit running efficiently is imperative, and we have the skills to do just that.
We also do exterior and outdoor home repairs and maintenance. One of our specialties is garden irrigation systems.
Ease of Communication
It's easy to get in touch with us and stay in touch because we follow the same process with all our customers. We give you a choice of channels.
You can speak to us via our online chatbox, or send us a WhatsApp text. You can phone us direct, or fill in the contact form on our website. Once you have told us what services you need, one of our team will contact you and set up a meeting to talk about the jobs you need us to do.
We provide a quotation for all jobs that we do. Once you have agreed to the quote, we will get started on the work on the same day.
We understand the urgency, the need for speed, and the imperative of working efficiently. If you have an emergency, we will act accordingly. We also understand that our customers have busy schedules, and will always ensure that we work at your convenience, especially for those services that take several days to complete.
Service Coverage
There are many companies that only work in certain areas. We provide our furniture assembly service and furniture installation service over the widest area in Dubai. Let us know where you live, and we've probably been to that area several times before during the seven years we have been in business.
We also provide a cleaning service that is tailored to people moving into an apartment or villa for the first time. Perhaps you would like us to do that for you before we assembly your furniture?
Whether you want us to assemble your furniture or a range of other home repair and maintenance jobs, contact us at Handymen Dubai, and we will give you the prompt, reliable, and professional service you're looking for!
We will assemble and install your furniture for you.

handymendubai.com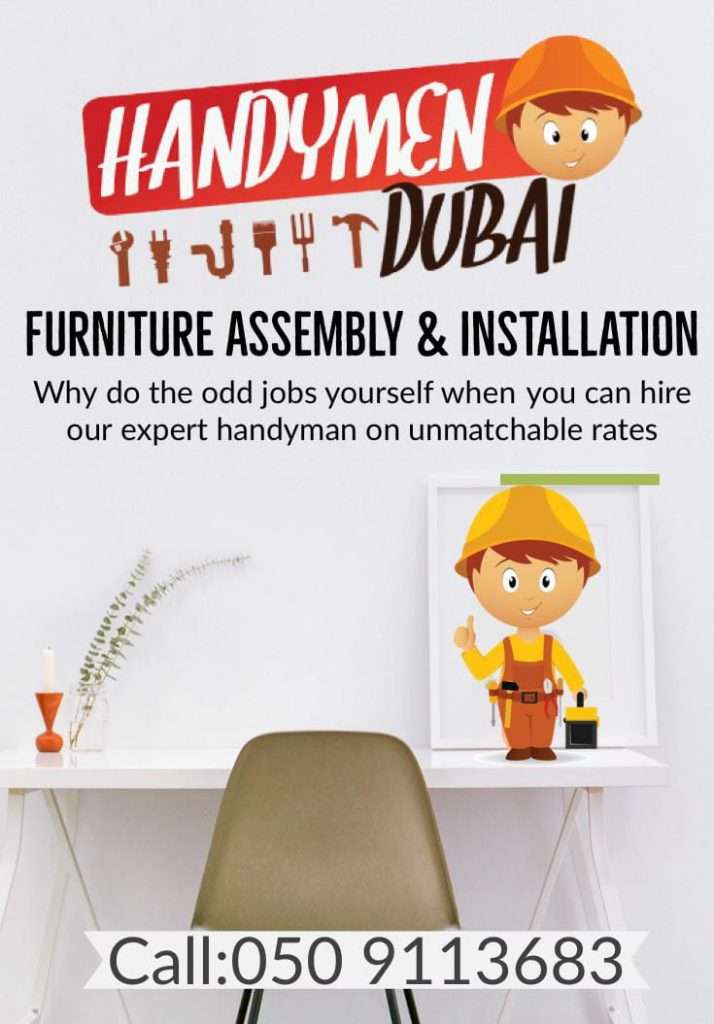 Our clients often say that we take a weight off their shoulders because settling into a new country and a new job at the same time can be very hectic. Most of our clients would rather leave such things to the professionals and focus on their new jobs instead. And many tell their friends that we are the best handymen in Dubai.