Wall Painting Services is our speciality and we have all the tools and equipment to turn your walls into art. From standard paint to Stucco and Furniture painting to Spray paint, we cover it all.
Getting your apartment or villa's wall painted, not only give you a boost to it's interior but also add value to your property. Another point not to miss is that fresh paint works as a disinfectant to the walls and add up to hygiene. A resident of any community in Dubai such as Dubai Marina, JLT, Springs, Arabian Ranches are abiding to follow standard community resident rules of general or preventive building maintenance all the time and must hire licensed and approved painting services providers to do handle the maintenance.
Our painters are not only registered but have valid passes to work in all major communities in Dubai, and are well trained to work as per the standards and with best quality finish.
Thinking of getting your home repainted?
We have special rates for a move in or move out painting services, which is required whenever you are leaving an old apartment or moving to a new villa. Getting all the nails removed, holes in the walls to be filled, and smooth and consistently painted walls and ceiling resulting in a ready to move in conditioned premise for new tenants, will not only guarantee your full security deposit with your landlord (this changes if there is any other maintenance or wear and tear is needed to the property) but also will leave a pleasant impression of yours.
In case you don't have enough time you can always ask your real estate agents to provide you with the painting services or even you may ask the property owner to hire a painting company and deduct the charges. But you know it always saves you money, when you do these things by yourself. All you have to do is to call us and we will take care of everything, you may even simply send us a whatsapp message to know the prices instantly and book the service any time.
Our Painter Decorator Services Provide you with:
Full preparation to Ceiling and Wall surfaces to get the correct end result you have to start from the correct surface. We make sure everything is prepared to ensure the best possible end result
Replastering/Skimming to poor surfaces or to improve surface finish this goes hand in hand with any prep work
Application of paints by hand (brushed where required), in a Matt, Vinyl Matt, Sheen, or Silk finish in colour of choice, or Traditional emulsion – whatever finish you require we have the right tools for the job
Preparation and application of Decorative effects (broken –colour) really make your rooms stand out with specially prepared effect feature walls
Preparation to wood surfaces, doors, windows, skirting boards etc, and application of primers, undercoats, and finishes in a Flat oil, Eggshell, Satin, or Gloss finish.
High gloss or Coach finishes to Doors get those interior and exterior doors looking there very best
Preparation and hanging of lining papers, or wall coverings of your choice If you choose to go with wallpaper rather a painted finish we have the experts at hand to provide the best possible painting decorating service. We guarantee no bubbles and the best possible finish
Exterior painting Whether it be for walls, fences, gates or decking we have all the equipment at hand to make your property look it's best.
If you are looking for Wall Painting or Interior Painting or simply a Villa Painting services, Your Worries are over as here in Painters Dubai, We provide all domestic and commercial painting & Interior decorating services, ranging from single wall painting to complete interior villa painting and from wall, holes filling and touch-ups to decorative and design painting.

From small-scale business premises to office blocks to factories, we'll consider all commercial work. From False Ceilings to Partition Works, Decorative Painting to Touch-ups, we cover it all.
Wall Painting Services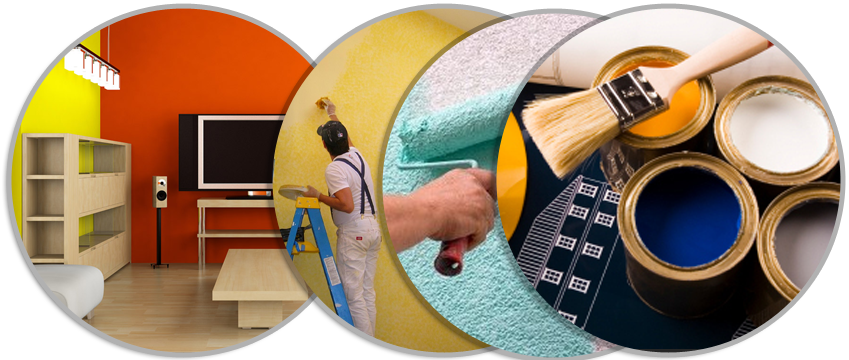 It isn't necessary to go into too much detail as to why a good painter in Dubai is so crucial to your property. One thing to state here is that if your interiors aren't finished to the right quality then the whole effort can be a waste. Our results speak for themselves. We pride ourselves in the results as The Best Painting Service in Dubai.
Not only painting but we also provide air conditioning repair and maintenance services and all kinds of handyman services such as drilling or installing curtains, pictures tv and shelves or assembly of furniture and other stuff.
We are master in the wall painting of any type!
General Interior & Exterior Painting, Wallpapers Installation, Decorative Painting, Special Design Finish  Painting, Multicolor Painting. Wood Painting, Spray Painting, Floor Painting, and almost any kind of painting.
The majority of people perceive painting to be a job that they can easily tackle. However, the professional painting will significantly enhance the look and feel of your home or office. You can rely on us to select the right colour and use the right painting products for the job, ensuring a wall that is well protected from deterioration and has long-lasting results. This means that you will not have to redo the job each year, saving your time and money in the long run.
We also assure that the job will be completed in a timely manner with care and quality.
We understand that most normal wear and tear gradually begins to take its toll on your property. It is to be expected that walls and ceilings will suffer minor damage or scrapes over the years, but at Dubai Technical we believe that you should always get the most out of your home and office.
No matter how big or small the job, extra caution will always be taken to ensure that the room is properly ventilated, prepared and cleaned so that the room is not left with any harmful fumes and the paint does not plunge onto your floors and furniture.
The use of drop cloths and plastic coverings are imperative to avoid the dreaded paint drippings and hand smudged walls. However, our service is more than just the care that we take, it is the techniques, tools and paints that we use.
We have all the right equipment needed to do the job to the highest possible standard. We will create the texture and style that you desire. With our range of sprayers, rollers and brushes, our work is guaranteed to be fast and efficient.
Three Simple steps to get it done.
1. Call us on 050 9243377 >> 2. Book our services >> 3. Painting is done
---