Did you know that the hottest temperature ever recorded in the UAE was a sweltering 52.1 degrees celsius? While most accommodation will come with an air conditioner, there are always areas where you may need an additional solution. So how do you keep these places temperate?
One way is with a floor standing unit. Read on as we give our guide to the best floor-standing AC units on the market.

Why Choose the Best Floor Standing Air Conditioner?
There is a whole range of air conditioners to decide upon, and the choice can seem overwhelming. However, floor standing models offer a unique solution to those who do not have the luxury of being able to install other types of AC systems.
As they can be moved into place, they are great for cutting down on significant installation costs when you have ample space you wish to cool. This also makes them a great temporary solution. They are not mounted on a wall, so this can save you a lot of space if you have furniture and artwork that would have to be moved for other systems.
Despite their large size, many floor-standing AC manufacturers realize the importance of keeping noise levels low. Therefore, you will find most have only marginal noise levels and won't disrupt the proceedings in commercial buildings or the peace and quiet of a residential one. Finally, floor-standing units become a great alternative if you can not install other split systems because of the structure or location.
Gree 5 Ton Floor Standing AC Scroll R410a T4matic Range
Brand: Gree
Type: Free-Standing Duct free Split
Compressor Type: Scroll
Refrigerant: R410a
Features Cool Only | Energy Saving | With Remote
For floor-standing AC in Dubai, you can't go wrong with Gree air conditioners. Manufactured in China, they provide high quality and reliability at a reasonable price.
This unit is fitted with one scroll compressor. A cooling-only model, it has energy-saving capabilities and remote control. These can deliver a sizable 60,000 BTU in cooling power, ideal for large spaces and buildings.
All this is done quietly, with a noise level of a mere 54dB. The T4matic can also dehumidify, removing around 6 liters of moisture per hour.
Other features are included, such as anti-corrosion protection to ensure longer-lasting parts. Three fan speeds provide varied circulation levels, along with an auto-restart and timer.
Carrier Comfort 38SD/42SD – 38SM/42SM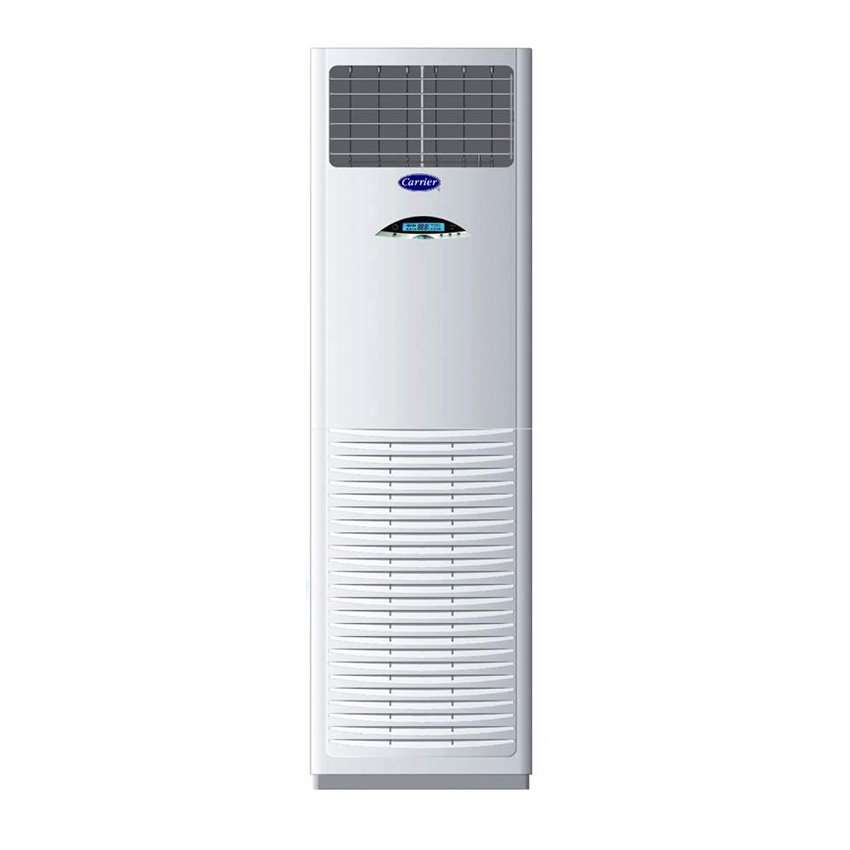 Brand: Carrier
Capacity in Tons: 5.0 Ton
Type: Free-Standing Duct free Split
Dimension: CU-1130 x 945 x 433 / FCU 740 x 440 x 1800
The comfort range by Carrier Air Conditioners is a selection of units that provide a free-standing, split system and duct-free cooling. Created by one of the leading manufacturers in air conditioning, they come with a modern design that complements any residential or commercial setting. Slim sizing is also great for those who want to cool with limited space.
Many of its features are automatic, meaning you can have a hands-off approach once set. An air management function already circulates the property's climate, keeping it clean and removing pollutants for you. A moisture removal system will also ensure that humidity is kept in check and at a minimum.
You can also expect a great lifespan from the unit. With anti-rust technology and weatherproofing, it will keep going in the toughest conditions. A low noise level is also ideal for areas where a quiet environment is essential.
Carrier Comfort Pro 38SL/42SL – 38SF/42SF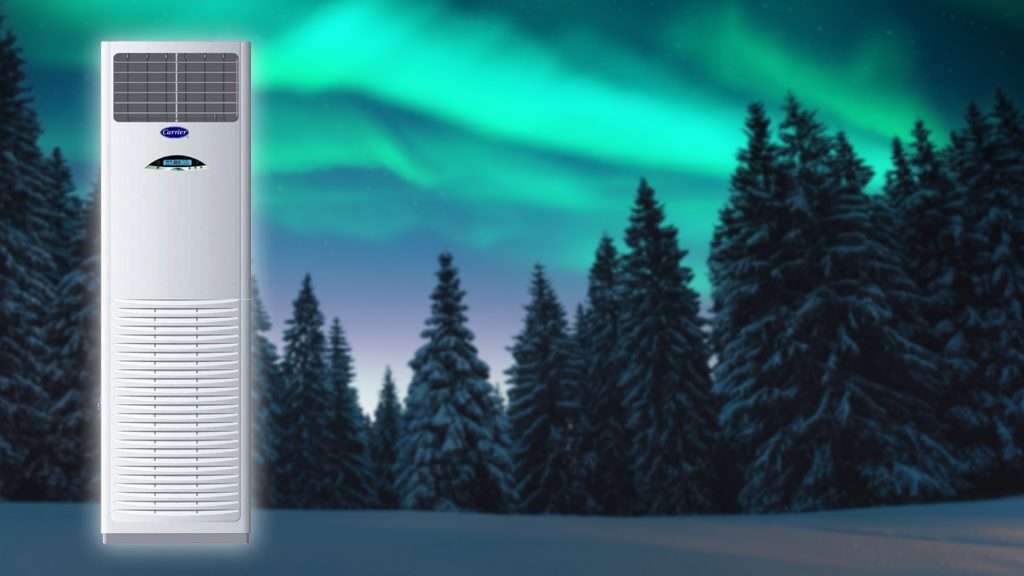 The carrier comfort pro AC unit offers enhanced efficiency and features over the standard range. The pro is a free-standing, duct-free split system. Each one uses environmentally friendly R-410A refrigerant for cooling.
All units come with a range of valuable functions. An auto sweep and filter cleaning alarm can help keep your maintenance schedule on track. A self-diagnosis function is also inherent in the system, so they are easy to spot and repair if any problems occur.
Super General SGFS120HE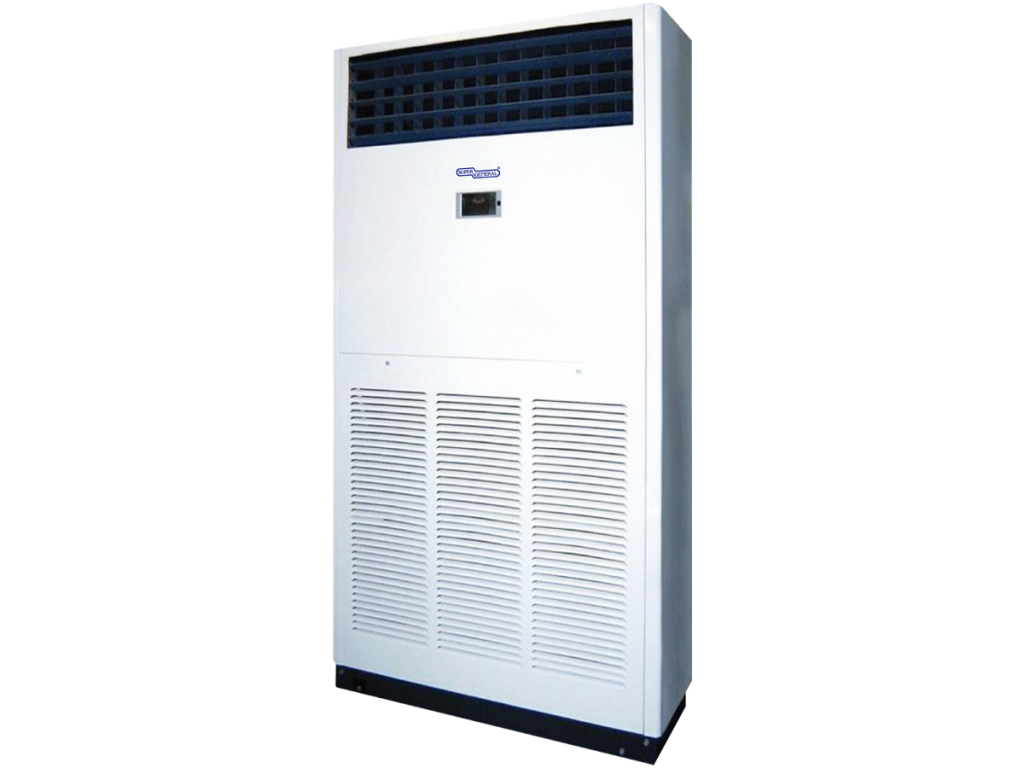 Brand: Super General
Compressor Type: SCROLL
Type: Free-Standing Duct free Split
Refrigerant Type: R410a
Dimension: 1200x518x1860/1362x582x2050 mm
A wide range of air conditioners for all size rooms is manufactured by Super General, from small window AC units to large modules like this one. If you have a big space that needs a robust system, this is the ideal choice, with the biggest unit giving 120000 BTUs of power.
It is a split AC with R22 refrigerant and a T3 scroll compressor. Unlike most units, it is not packed with features but does have essential ones. An auto-restart is included in all models, as is an energy-saving sleep mode.
Westpoint WAM-4820LTSL
Brand: Super Westpoint
Compressor Type: SCROLL
Type: Free-Standing Duct free Split
Refrigerant Type: R410a
Dimension: 39 x 61 x 192.5 cm
These models can be purchased in three, four, and five-ton versions. They operate using a rotary compressor that can provide 2320m3/h of airflow. All of this provides a high level of cooling performance and air purification.
Models are extremely durable and with anti-corrosion treatments, can last a long time in most climates. The sleek design will sit well with the aesthetic of most properties, residential or commercial. Easy to install, it is a great way to cool and save space at the same time.
At the weight of 56 kilograms, installations can take place quickly and easily. A connection pipe is available for venting to outside spaces.
Purchasing the Best Floor Standing AC
Now you know the best floor standing AC units available, start by working out the correct size model for your room. From here you can shop around to see which unit suits your budget. Make sure you only pay for features that you plan to use when you buy an air conditioner.
If you are new to the UAE, then make HVAC Souq your first stop. From jobs to services, we have listings for everything you could need. Visit our article on AC installation to help you stay cool on your arrival.  Edit Article
Floor-Standing AC Supplier in Dubai
Check out the leading Supplier of Floor-Standing Air Conditioners in Dubai