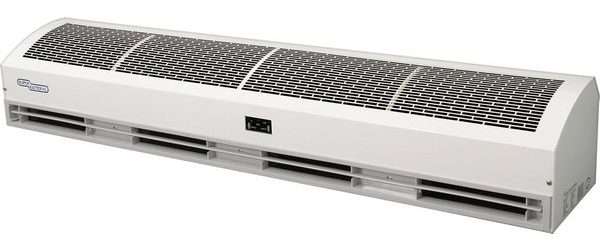 What happens in Dubai certainly doesn't stay in Dubai. One prominent example of this change is the rapidly increasing (3% per year) use of air curtains.
The rising industry of the air curtain in Dubai means that the international worlds of retail, warehousing, storage, and trade are also rapidly moving toward air curtains. 
Yet, the conditions specific to the UAE require a high standard for air curtains. Read on to find out the benefits of air curtains and the best models for your home or business.
Are Our Air Curtains Even Effective?
The answer to this question depends upon the possible use you have in mind for the air curtain. If the tradesmen install the air curtain correctly, studies have revealed that it is quite effective to use. The climate protection within the room using an air curtain is even better than a regular door.
As a leading air curtain supplier in Dubai, we've has been dealing with air curtain installation for many years now. The majority of the clients we work with are large-scale corporations and organizations that are swiftly moving towards air curtains integration instead of regular door setups for their stores, offices, and warehouses.
Air Curtain Technology
Now, you might be thinking about the whole working setup of an air curtain. The entire operation of an air curtain is carried out based on pure physics, so an air curtain generates a fine stream of air from one end. According to the laws of convection, the heated air should begin to rise.
Once the heated air rises, the cold air slides through the floor, disrupting both the internal and external conditions.
This is where the air curtain comes into action. The air curtain generates a fine stream of air that maintains a balance between both internal and external environments and maintains equilibrium. So, you can keep either side of the air curtain climate-controlled with well-maintained traditional AC to whatever specifications you'd like.
Air Curtains That Are going to Perform Exceptionally in Dubai
The UAE has unique weather conditions that can get extremely hot and dry. Therefore, the air curtains must be of high quality to not let the outside environment bleed through the curtain. Here are some of our top recommendations.
Westpoint Air Curtain WTNF0913RC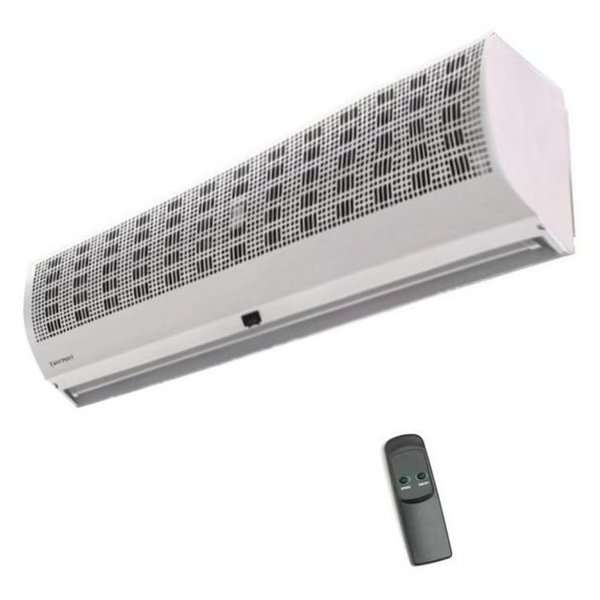 As a company with years of experience as an air curtain supplier in the UAE, we know the types of air curtain models that stand up to the tough conditions. As a general rule, Westpoint air curtains are always up to the task.
The WTNF0913RC is one of our favorite picks from this fantastic manufacturer because of its power-to-weight ratio. With a total weight of 21 kg, a WTNF0913RX model is a powerful unit with an output of 1 260 m3/h that can handle any sudden weather changes that may occur.
Key Feature of Westpoint Air Curtain 90cm WTNF0913RC (Free Standing Type)
Brand: Westpoint
Color: White
Dimensions (H x W x D): 225 x 255 x 900 mm
Power Supply: 220-240 Volts
Cooling Capacity: Air Volume 1 260 m3/h
Filter Type: Dual Protection Filter
Frequency: 50-Hz
Country of Origin: China
Super General Metal Air Curtain SGCTN120H

The SGCTN120Hmodel of Super General is proving to be a real contender for Dubai's top air curtain title.
Well, the most Rockstar feature is its compact nature. The whole setup weighs only 5kgs with exceptional performance dynamics. They build these metal air curtains tough too, so you have peace of mind that this quality piece of equipment will have a long life.
Key Feature of Super General Metal Air Curtain SGCTN120H (Free Standing Type)
Brand: Super General
Color: White
Dimensions (H x W x D): 1200 mm
Power Supply: 220-240 Volts
Country of Origin: China
Reasons Why You Should Install an Air Curtain in Dubai
Air curtains are a great piece of technology for climate control. They really come into their own when you consider the tough environment of the desert city. Here are some of the most important reasons you should consider installing an air curtain.
Ensure Comfort
The first thing that an air curtain ensures is comfort. If you install an air curtain in your office or shop, the change it will bring to the whole environment will be super noticeable. Plus, if you are using air curtains in UAE, it will be a real blessing in the scorching heat of the desert.
Yes, Dubai has indeed been transformed into an oasis of concrete in the middle of the desert. But still, issues like dust storms and air pollution are quite severe in this region of the world. With an air curtain, you can keep yourself and your staff away from the impact of the desert weather.
Lower Energy Loss
As an air curtain supplier in Dubai, we understand all the possible impacts of using an air curtain. In particular, the ability of an air curtain to lower energy loss is one major reason why the corporate world is moving towards air curtain installation instead of regular doors.
According to detailed reports, the amount of energy lost in maintaining the comfy and clear environment within a setup is quite high when using regular doors as they disrupt the environment when they open and close. As a result, ACs will be running continuously, fans will be working, cleaners moving around, and too much energy lost.
Maintain a Refreshing Environment
If you take a look at all the popular air curtain brands in UAE and the major air curtain-related services they are offering, you will find one thing in common. Every single one of them claims that the air curtain they manufacture is going to refresh your working environment.
To some extent, the claims they make are accurate; but it all depends upon the air curtain installation and the size of the area you are thinking about covering with the help of the air curtain. If integrated and maintained appropriately, the air curtain will ensure a refreshing environment for quite some time.
Protect Against Dust and Pollutants
As a business owner in Dubai, what's the one thing that pops up in your mind after enjoying a view full of the amazing cityscape? Well, for most of us, we will be thinking about the best possible way of keeping the workspace clean from a dust storm and air pollutants.
Today, it is scientifically proven that using an air curtain is the one of best options for you if you want to protect your work environment against dust and air pollutants. This can be one of the most practical reasons to get an air curtain in Dubai.
Secure Space
Time to start thinking creatively. Just imagine the amount of space that will be saved around the front counter. This can be only done if you decide to go with an air curtain instead of a standard door.
For shop owners, the biggest con of using a regular style door is the amount of space it will occupy. For someone operating in a spot like Dubai, saving as much workspace as possible for the consumer is a principal concept worth chasing.
CO2 Emission Reduction
Yes, using an air curtain can significantly decrease the CO2 emission from your everyday work routine.
Air curtains are known for reducing the CO2 emission in the entire building. They reduce the amount of carbon imprint generated by closing and opening doors, which causes traditional AC units to work harder.
This will also ensure that the equilibrium attained between both the internal and external environment remains stable with very little carbon dioxide escape.
A Barrier Against Fire Fumes
Hopefully, a fire would never happen in your building. But in the event of a fire, a functioning air curtain can help keep smoke damage and even the flames themselves from entering your space, provided they are still running.
Nothing is more important than the security of your staff and yourself. Another major reason why sky scrappers in the UAE are rapidly moving towards air curtains instead of regular doors.
They allow for quick escapes during an emergency.
They don't contain fires, as well as a fire door, would, but the tradeoff is that they can fight off smoke inhalation and allow for much faster evacuations.
Opening Doorways to Innovation
If we take a closer look at why a region like UAE, and Dubai in particular, is focusing on the usage of air curtains more than ever, we can clearly understand the motive behind the popularity of this rising industry.
Air curtains are intelligent ways to climate control your property and keep it safe from potential pollutants, all while providing an open and inviting entrance.
When you're looking for an air curtain in Dubai, you should consult a professional. You can be confident that you're getting a model capable of tackling the specific needs of your home or business.
Check out the best curtains supply and installation service provider in Dubai

Blinds, Drapes & Curtains Installation Service
Our site covers a variety of services in Dubai. Check out our services section or news to find out more about how to improve your quality of life here in Dubai.
Air Curtain and Air Conditioners Servicing & Repair
Contact our team of expert air conditioning technicians for maintenance for the full range of air curtain models. Furthermore, prompt emergency ac repair service is available
All air conditioning units including air curtains need to be regularly cleaned and serviced to efficiency in operation.
Other benefits include:
Priority call outs
Competitive rates
Discounted spare parts
Free delivery on planned consumables
Free technical consultation advice