Top Carrier Air Conditioner Supplier in the U.A.E

Carrier air conditioners are known for their quality, innovative technology, and superior energy efficiency. At Ice Cube, we are proud to be one of the leading retailers in the United Arab Emirates for these highly-rated air conditioning units. Shop our selection of Carrier central air conditioners for your home or business today.
Continue reading to learn more about carrier air conditioners
Beat the Heat this Summer with Carrier's Innovative Technology
We carry a wide range of the best Carrier air conditioner models for your comfort, including all of their most popular units. Learn more about these quiet and energy-efficient products.
Infinity Series
The Infinity Series is Carrier's premium line of central air conditioners and is one of the industry's best. These units are up to 50% quieter than the closest competitors and have a SEER energy rating of up to 27, making them some of the most efficient central air conditioning units available. This line comes in various options for every size of home and provides the best humidity control on the market. If you are looking for the absolute best in home comfort, check out Carrier's Infinity Series today. 
Performance Series
The Performance Series features some of the most popular Carrier air conditioner models. These residential air conditioners are Energy STAR-rated, quiet, reliable, and have a SEER of up to 17. They come in eight different sizes and provide enhanced energy savings. Keep your energy bill low this summer with this great option.
Comfort Series
The Comfort Series is Carrier's most affordable line of air conditioners for home and business. It features an Energy STAR rating, and a 10-year warranty, and is highly rated. They are easy to operate and quiet to run. If you are looking for an affordable way to keep your home cool this summer, check out the Comfort Series. 
Enjoy the Best in Home Comfort
When you choose a Carrier air conditioner, you are choosing a company committed to providing its customers with the best and most innovative solutions for their HVAC needs. Their products are known for their performance and reliability.
Quiet Performance
If you are looking for the quietest central air conditioner, you have come to the right place. The Carrier Infinity Series is up to 50% quieter than the closest competitor. The Comfort Series and Performance Series are also known for producing minimal noise. Some units even feature the Silencer System II™ to reduce noise levels even further.
The Best Humidity Control
There is nothing worse than humidity, especially in your home. Carrier air conditioners feature one-stage, two-stage, and variable-speed compressors for maximum humidity control. Check out basic models featuring one-stage compressors for quality humidity control or variable-speed compressors that work overtime to provide enhanced relief.
Energy STAR Rated for Maximum Efficiency
Carrier air conditioners are designed to save you money while minimizing your impact on the environment. The Infinity Series is one of the most energy-efficient central air conditioning units available, with a seasonal energy efficiency ratio (SEER) of up to 26.
10-Year Limited Parts Guarantee
Carrer is committed to providing the best HVAC products to its customers, and it stands behind the HVAC units it sells. That is why it offers a 10-year limited parts warranty on all of the central air conditioning units they sell. Get peace of mind when you choose Carrier.
Choosing the Right Central Air Conditioner for Your Home
There are several things to consider when choosing the right Carrier air conditioner model for your home or business. At Ice Cube, we know that a central air conditioning system is a big investment in the comfort of your family. We are here to guide you through the process of selecting the right unit for you.
Size of Your Home or Business
This is one of the most important things to consider when choosing a central air unit, as you'll want one powerful enough to cool your whole home with ease. Carrier carries a wide range of commercial and residential air conditioning units designed to fit any space up. 
Type of Compressor
Carrier air conditioners feature three different types of compressors–single-stage, double-stage, and variable-speed models for enhanced efficiency. Variable-speed compressors are the most efficient and quietest models and are available in premium units.
Initial Budget
Carrier air conditioners are designed to save you money over time. Your energy savings may even cover the cost of your unit. However, your initial investment is also an essential factor. Carrier has quality solutions designed to meet any budget and a warranty on all of their products, so you know you are getting a great central air conditioning unit at a price you can afford.
Choose the Right Carrier Air Conditioner Retailer
The retailer you choose when shopping for a central air conditioning unit is just as important as the brand itself.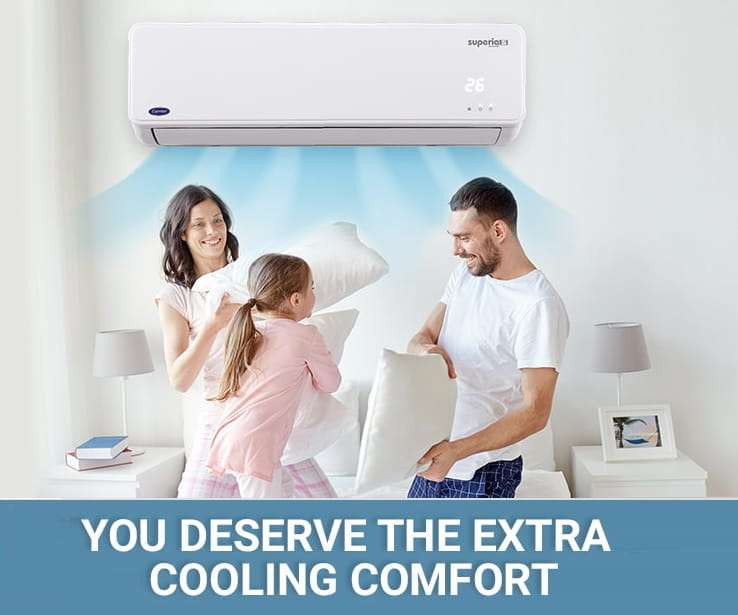 At Ice Cube, we have the dedication and experience to help you choose the right model at the right price. We are here to assist you every step of the way.
We carry all the systems that Carrier sells. We can connect you with excellent air conditioning repair people and Carrier air conditioner parts should you ever need a repair. We provide service and delivery all over the United Arab Emirates for your convenience.
We are committed to affordable pricing on all of the products we sell and excellent customer service. You know you are in good hands when you shop at Ice Cube, a leading retailer of HVAC equipment for your home or business.

What Our Customers Are Saying
Shop Our Wide Selection of Carrier Central Air Conditioners Today
If you are ready to enjoy the difference a Carrier air conditioner can make in the comfort of your home, check out all of the great products this company has to offer. If you have any questions, feel free to reach out to us. Our friendly team will be happy to help you make the right choice for your family. Give us a call for Carrier air conditioner prices or shop Carrier air conditioners in U.A.E today. 
---
---